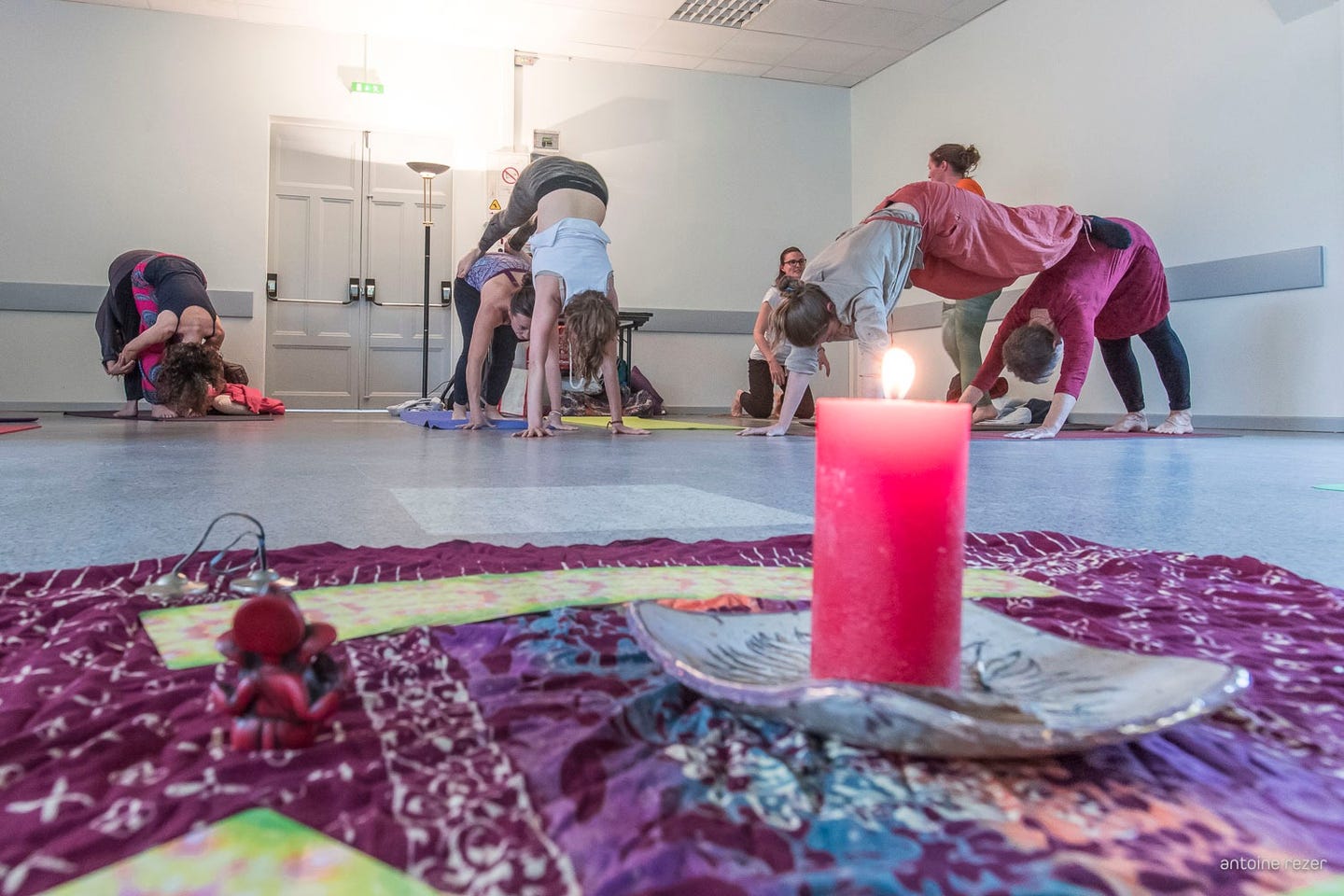 Évènements, Stages & Retraites
Envie d'approfondir ta pratique?
Joins toi à nous lors d'un de ces prochains évènements...
En résidentiel, sur un long weekend pour se déconnecter près de chez soi.
Une belle opportunité pour approfondir sa pratique du pranayama!


A partir du 16 janvier
Matériel de cours en ligne et vidéo :
Objectifs:
Guide de la pratique en général et préparation
Les quatre actions du souffle
Les trois Bandhaḥ (veroux) et leurs importance
La pensée et le souffle
Techniques
Vidéos de démonstration
3 sessions de questions/réponses et de pratique en direct
Webinaires en direct

1. Questions-réponses sur le matériel de cours et l'introduction de l'Anuloma-viloma-prāṇāyāmaḥ
16 janvier 2021 7:45 - 9:15 GMT
ou
17 janvier 13:00- 14:30 PM GMT
2. Bhastrikā-prāṇāyāmaḥ (soufflet) explication et pratique :
30 janvier 7:45 - 8:30 GMT
ou
31 janvier 13:00- 13:45 PM GMT
3. Nāḍīśodhana : et Kapālabhātī-prāṇāyāmaḥ
13 février 7h45 - 8h45 GMT
ou
14 février 13:00- 14:00 PM GMT
Merci de ne pas manger 3 heures avant la pratique :)
Stages en 2021
Février 18-21 avec Irene à la Soleillette (Bogève)
Août 26-29 avec Irene à la Soleillette (Bogève)
Pour partir plus longtemps et puiser de l'énergie à la Source.
22 Mai - 5 Juin 2021 (Mussoorie, Inde)
Have you ever caught a glimps of light within you? Or have you ever felt its sweet inner calling? Have you ever felt like you'd pierced through the veil of your daily reality and met life exactly for what it was, a moment of perfect peace and time standing still?

Perhaps yoga is new to you and you simply feel a longing. Maybe you're already a long term yoga teacher and looking to deepen your already existing meditation practice? Or perhaps as a teacher that sense of completeness is just not quite there? Perhaps you've been at our previous retreats.

Either way, if any of these apply, then this yoga retreat is for you.

Our true nature, our soul, is divine, the ancient rishis taught us. To reach a state of union with our true nature, is called YOGA.

Fortunately, the path towards this state has also been described and has been taught for thousands of years. This yoga retreat "a touch of the divine", describes exactly our intention for you: to give you all the tools, teachings, coaching and facilities to help you on your way…
We offer an immersion in these ancient teachings, taught by those who live and breathe it.
Under spiritual guidance of swami Yogananda Prajivak and Lucy Guest (Divya Prabha) direct disciples of Brahmrishi Visvatma Bawra.

~ "To be able to emerse in deep meditation has nothing to do with how many years of practice you've got; it's simply about finding the light switch within, which can happen in a blink of an eye."

To help you get the most out of your retreat, it will include:
* Twice daily yoga classes: asana (yoga postures, suitable for all levels), pranayama (breathing techniques) and meditation classes by Irene van der Post;
* inspiring lectures, learning life tools, by yogini and founder of the Chandramauli Charitable Trust and internationally renowned speaker Lucy Guest;
* ample individual guidance and support;
* a truly special setting called Aranyaka Upanishad in a lush valley forest sanctuary in the Himalayas, especially designed for spiritual retreats;
* vegetarian yogic mountain meals;
* all pick-ups, transfers, shared accommodation (2 people per room) and meals.

Example daily « a touch of the divine » yoga retreat schedule:
6:00 Morning meditation
6:30 Dynamic Hatha yoga class
8:30 Break
9:00 Yoga Philosophy and Discussion with world-renowned teacher, Lucy Guest
10:30 Delicious Yogic brunch at retreat home kitchen
Free time to nap, walk or explore our library. Tea & fruit at the dining-room facilities
14:00 Dynamic Hatha Yoga class
16:00 Guided meditation by Lucy Guest
17:00 Delicious Vegetarian dinner
19:00 Yoga Philosophy and Discussion
Rest

Setting:
Nestled in a fifty-acre forest filled with fragrant cedar-pines and himalayan rhododendron trees, our retreat center provides a sacred space to practice meditation and yoga and experience the joy that lies within. The deep quiet and relaxation really aids self-discovery, reflection, and rejuvenation.
The retreat-center grounds contain gardens, streams, woods, walking paths and wildlife. Each guest cottage has a bathroom and accomodates 2 people with stunning views of the landscape and a sanctuary of perfect peace. Hiking trails pass right outside your front door and traverse forests all around.

The retreat will be held twice a year in Spring and Autumn and it will remain intimate as places are limited to a maximum of 18 participants..

The price for this retreat is 1,050 Euros (excluding flights) and all profits go to the International Chandramauli Charitable trust.

We are so lucky to have found this perfect setting to disconnect from the outer world, reconnect within your self and learn how to live on re-treat no matter where you are.
De l'enseignement sur de la durée, pour ceux qui souhaitent prendre le chemin du yoga.
En Juin 2018, nous avons commencé la première année du Sadhana Yoga Teacher Training -
Il s'agit d'un programme en plusieurs modules sur 2 ans et demi, dont l'enseignement est issu d'une lignée traditionnelle indienne.
Ce programme vous permettra d'approfondir vos connaissances du yoga et de pouvoir les appliquer au quotidien. Vous pourrez aussi, si vous le souhaitez, donner des cours de yoga dans l'association ou ailleurs!
Une deuxième formation est prévu dans un future proche.